Bos en Duin - Holiday park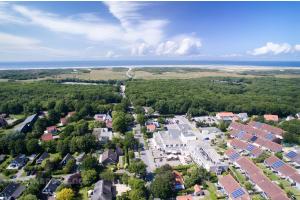 Holiday Park Bos en Duin, located in the picturesque Oostkapelle. Here, embraced by lush forests and just a stone's throw from the refreshing North Sea, you'll find the ideal base for an unforgettable holiday.
Natural Beauty and Comfort
Bos en Duin offers the perfect blend of natural beauty and modern comfort. Surrounded by the greenery of the forests and the blue of the sea, our guests are invited to relax and leave the daily hustle and bustle behind. Our accommodations, ranging from cosy bungalows to luxurious villas, are equipped with all modern amenities to provide you with a home away from home.
Activities for Everyone
For nature enthusiasts, there are countless walking and cycling routes that take you through dense forests and along the expansive coastline. Children can enjoy themselves at our playgrounds and during the summer months, benefit from a dynamic animation programme.
Oostkapelle itself, a charming village with a rich history, offers an array of cosy cafés, restaurants, and shops. Sample the local delicacies, explore the historic sites, or simply stroll through its tranquil streets.
Relaxation by the Sea
A short walk from the holiday park leads you to the serene beaches of Oostkapelle. Here, you can bask in the sun, take a refreshing dip, or simply enjoy the sound of the waves lapping against the shore.
Conclusion
Whether you're seeking an active holiday filled with adventure or a tranquil place to relax and recharge, Holiday Park Bos en Duin in Oostkapelle caters for all. We invite you to come and discover for yourself what makes our location so special. Book now and experience the magic of Bos en Duin!
For information and reservation
Search & Book
Vroonweg 2, Oostkapelle
tel. +31 118 583 110
web.
More information