Subtropical swimming pool De Parel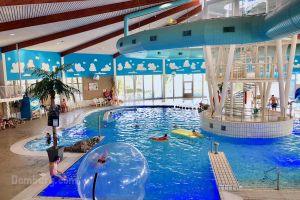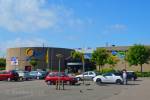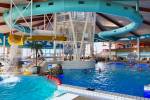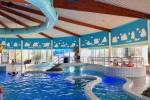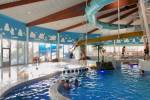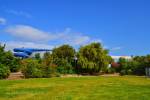 Domburg offers a wide range of subtropical swimming facilities that can be enjoyed by guests of all ages, regardless of the weather.
The swimming paradise has a large indoor pool with a rapids area where you can relax in the water without having to make the slightest effort to stay afloat. There is also a paddling pool with play equipment specially for the little ones. The giant water slide (79 metres long!) with a special light show will guarantee you and your children hours of fun in the water. The Pelican Dive with an exhilarating two-metre free fall is a must-do for the daredevils among you. The swimming paradise also has an outdoor pool if you prefer to swim in the open air and enjoy the sunshine. When you are ready to take a break from swimming you can visit the cosy bikini bar to enjoy a drink and a tasty snack.
Furthermore Subtropical swimming pool De Parel is near the following sights: Health and beauty center De Parel (±10 m), Bowling De Parel (±70 m), Domburgsche Golf Club (±150 m), Marie Tak van Poortvliet (±550 m) & Indoor Playground Zwierelantijn (±1,3 km).
For information:
Zwemparadijs De Parel
Babelweg 2, Domburg
tel. +31 118 588 257
web.
More information