Surfschool Domburg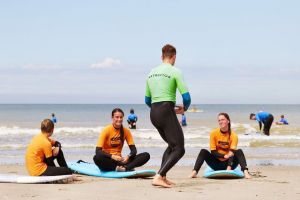 Domburg is één van de beste golfsurfspots van Nederland. Om deze reden hebben wij op het strand Noordduine onze surfschool gevestigd. Je kunt bij ons surf-, Stand-up (sup) en skimboardles krijgen.
Op het strand Noordduine kan je heerlijk genieten van de Zon, Zee en Strand. Voeg daar wat Surf aan toe en je hebt gegarandeerd een super leuke dag en een nieuwe hobby.
Furthermore Surfschool Domburg is near the following sights: Domburgsche Golf Club (±1,5 km), Health and beauty center De Parel (±1,6 km), Subtropical swimming pool De Parel (±1,6 km), Bowling De Parel (±1,6 km) & Marie Tak van Poortvliet (±2,1 km).
For information:
Sportshop Domburg
Strand Noordduine, Domburg
tel. +31 118 584 795
web.
Website