Lijdijkweg - VZ581 - Studio apartment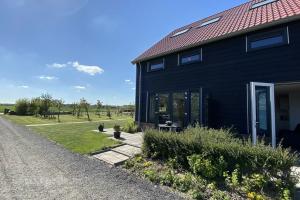 You can rent this luxurious studio for 2 people in Vrouwenpolder on the Walcheren peninsula. Together with three other apartments, it is part of a brand-new holiday accommodation in the rural outskirts of Vrouwenpolder. It offers you a beautiful view over the woods and dunes. The studio features very comfortable and luxurious furnishings, and you can make use of a bread service in the morning.The area is ideal for pleasant hikes or long bike rides to Oostkapelle, Veere, and Middelburg, for example. However, Vrouwenpolder itself is also nice to visit. It has a cozy village center with several restaurants, bars, shops, and terraces. he central location between Lake Veere and the North Sea offers you many opportunities to enjoy the water and to enjoy the beach. Whether it is a beach walk, sunbathing, or being active in and on the water, it is all possible. Do not hesitate and come enjoy the beauty of Walcheren by renting this studio in Vrouwenpolder.
Luxurious 2-person studio in Vrouwenpolder on Walcheren, rural and quiet.
For information and reservation
Search & Book
Lijdijkweg, Vrouwenpolder
tel. +31 118 744 025
web.
More information