Duinweg 48 - ON138 - Studio apartment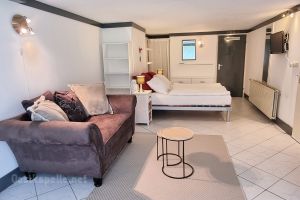 Deze ruime studio met grote tuin is gelegen aan de Duinweg, de verbindingsweg tussen strand en centrum. De studio is voorzien van keuken met vriezer, combimagnetron, elektrische kookplaat en van een eigen terras achter het huis met een groot grasveld. U mag hier ook barbecueën (op het terrasgedeelte), en kunt gebruikmaken van de schuur om fietsen te stallen.
For information and reservation
Sea & Sun Holiday
Duinweg 48, Oostkapelle
tel. +31 118 584 453
mail.
E-mail
web.
Website
Characteristics
Max. 2 personen.
Floor space: ±30 m².
Pets not allowed.
No smoking.
Kitchen
Refrigerator.
Freezer compartment.
Coffee machine.
Water boiler.
Combi microwave.
Outside
Garden.
Terrace.
Garden furniture.
Storage room.
Location
Distance to the beach: ±1,1 km.
Occupancy rate
December 2022
48
1
2
3
4
49
5
6
7
8
9
10
11
50
12
13
14
15
16
17
18
51
19
20
21
22
23
24
25
52
26
27
28
29
30
31
January 2023
52
1
01
2
3
4
5
6
7
8
02
9
10
11
12
13
14
15
03
16
17
18
19
20
21
22
04
23
24
25
26
27
28
29
05
30
31
February 2023
05
1
2
3
4
5
06
6
7
8
9
10
11
12
07
13
14
15
16
17
18
19
08
20
21
22
23
24
25
26
09
27
28
March 2023
09
1
2
3
4
5
10
6
7
8
9
10
11
12
11
13
14
15
16
17
18
19
12
20
21
22
23
24
25
26
13
27
28
29
30
31
April 2023
13
1
2
14
3
4
5
6
7
8
9
15
10
11
12
13
14
15
16
16
17
18
19
20
21
22
23
17
24
25
26
27
28
29
30
May 2023
18
1
2
3
4
5
6
7
19
8
9
10
11
12
13
14
20
15
16
17
18
19
20
21
21
22
23
24
25
26
27
28
22
29
30
31
June 2023
22
1
2
3
4
23
5
6
7
8
9
10
11
24
12
13
14
15
16
17
18
25
19
20
21
22
23
24
25
26
26
27
28
29
30
July 2023
26
1
2
27
3
4
5
6
7
8
9
28
10
11
12
13
14
15
16
29
17
18
19
20
21
22
23
30
24
25
26
27
28
29
30
31
31
August 2023
31
1
2
3
4
5
6
32
7
8
9
10
11
12
13
33
14
15
16
17
18
19
20
34
21
22
23
24
25
26
27
35
28
29
30
31
September 2023
35
1
2
3
36
4
5
6
7
8
9
10
37
11
12
13
14
15
16
17
38
18
19
20
21
22
23
24
39
25
26
27
28
29
30
October 2023
39
1
40
2
3
4
5
6
7
8
41
9
10
11
12
13
14
15
42
16
17
18
19
20
21
22
43
23
24
25
26
27
28
29
44
30
31
November 2023
44
1
2
3
4
5
45
6
7
8
9
10
11
12
46
13
14
15
16
17
18
19
47
20
21
22
23
24
25
26
48
27
28
29
30
December 2023
48
1
2
3
49
4
5
6
7
8
9
10
50
11
12
13
14
15
16
17
51
18
19
20
21
22
23
24
52
25
26
27
28
29
30
31
January 2024
01
1
2
3
4
5
6
7
02
8
9
10
11
12
13
14
03
15
16
17
18
19
20
21
04
22
23
24
25
26
27
28
05
29
30
31
Location