Children's Playground Ballorig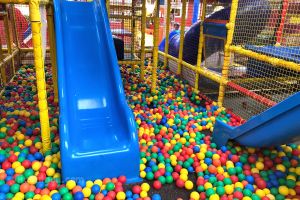 Play around, drinking soda and eating French fries! At Children's Playground Ballorig you can let yourself go. Freefall from the super steep slide, make an awesome jump from the jumping tower and climb and scramble endlessly on our playground. In the summer months you can also play outside on our bouncy castles with water. Talking about fun!
At Children's Playground Ballorig little and bigger children can play at separate playgrounds. The little ones can have fun with giant Lego and hobbling animals and can climb at the play structure with ball pit and slide. We have a seven-meter-high climb and scramble course with five different slides, a bouncy castle and mega ball pit with ball cannon for the bigger children. Parents/ supervisors can take a break in our (open) restaurant with a view on their children. Free WiFi. Free parking at our own parking area.
Come see what's happening at Children's Playground Ballorig!
Furthermore Children's Playground Ballorig is near the following sights: DOCK Fun & Event Center (±450 m), Cine City (±1,4 km), Sun Train Zeeland (±1,5 km), Reptile Zoo Iguana (±1,6 km) & Gaming Factory (±1,6 km).
For information:
Baskensburgplein 2, Vlissingen
tel. +31 118 415 659
web.
Website