Schulenburg - VZ1078 - Cottage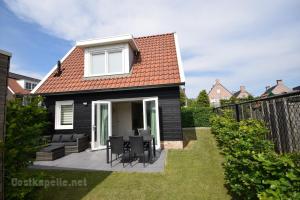 Newly built holiday home (2019). This very well maintained and attractively furnished holiday home is located near the center of Oostkapelle and can be rented for a maximum of 4 people. There is a spacious living room with dining area and sitting area. Separate kitchen, the kitchen is very well equipped to prepare a delicious meal yourself. Upstairs there is a luxurious bathroom.Oostkapelle is growing as a tourist village, where it used to be mainly an agricultural village. More and more holidaymakers, bathers and day tourists are finding their way to Oostkapelle. This is reflected in the range of holiday homes, holiday parks and campsites in and around the village. Current residents of the village also make their homes (partially or completely) available for rent. Everything can be found in the village, such as catering, a tourist office, supermarkets, bicycle rental, weekly summer markets and various shops. What makes Oostkapelle so beautiful is that it has a direct connection to the beach and surrounding nature (Oranjezon and De Manteling). Finally, various events are organized in Oostkapelle throughout the year, such as walks on the beach and through nature, weekly markets, excursions along the coast, beach games and rafting.
4-Person Holiday Home in Oostkapelle
For information and reservation
Search & Book
Schulenburg, Oostkapelle
tel. +31 118 744 025
web.
More information