Park Reygersbergh - VZ1175 - Cottage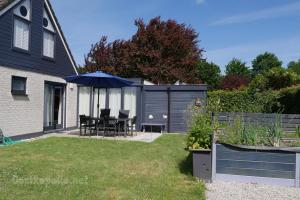 This modern holiday home is located in Oostkapelle near the beach. From Oostkapelle you can quickly reach Domburg, Middelburg and Westkapelle. The area gives you all the beauty that Zeeland has to offer, the beach and the sea, the cozy center with restaurants, shops and terraces and a beautiful nature reserve where you can enjoy cycling and walking. Whatever you are looking for you will certainly find it here, peace, sea, beach and forest nearby! So don't wait too long to rent this 5-person holiday home in Oostkapelle and come and enjoy a wonderful holiday in Zeeland with your family or friends.More and more holidaymakers, bathers and day tourists are finding their way to Oostkapelle. And there is no other way: everything comes together at this beautiful spot on the coast. Everything you need can be found in the village: think of restaurants, supermarkets, bicycle rental, weekly summer markets and various shops. What makes Oostkapelle so beautiful is that it has a direct connection to the beach and the surrounding nature (Oranjezon and De Manteling) where you can enjoy cycling or walking. Various events are organized in Oostkapelle throughout the year and there are also many options for days out: visit Westhove Castle or Deltapark Neeltje Jans, for example.
5-person detached holiday home in Oostkapelle
For information and reservation
Search & Book
Park Reygersbergh, Oostkapelle
tel. +31 118 744 025
web.
More information