Oostkapelseweg - VZ1005 - Cottage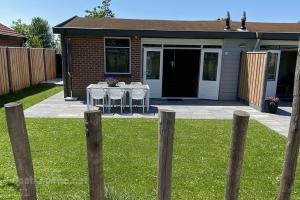 In Serooskerke you can rent this child-friendly 4-person vacation home. The park has various facilities to be active, but you can also rent bikes or scooters to explore the area. This house is centrally located on Walcheren, near forest, sea and beach, so you have all possibilities for trips within reach. Towns and villages such as Vrouwenpolder, Oostkapelle and Middelburg are easy to reach. You are also close to Lake Veere, the proximity of water gives you plenty of opportunities for various water sports like surfing, sailing, swimming and fishing. The surroundings are excellent for long bicycle rides and lovely walks, where you can enjoy all the beauty you will encounter along the way such as mills, cheese farms, farm stores and gardens.The beaches in Zeeland are all different and therefore unique. There are quiet natural beaches, water sports beaches and family beaches. At the pavilions you can have a delicious meal or enjoy a drink. Come and enjoy a wonderful vacation together, by renting this house in Serooskerke. You will certainly have a good time!
4-Persons holiday home in Serooskerke
For information and reservation
Search & Book
Oostkapelseweg, Serooskerke (Walcheren)
tel. +31 118 744 025
web.
More information