Oude Domburgseweg - VZ488 - Cottage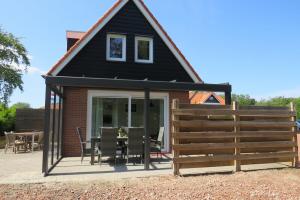 Holiday home for 6 people with 3 bedrooms. 1 km from the beach. Between the meadow and the nature walking area.See-House is a detached house with lots of privacy.You will find every comfort in this 6-person house. Living room, open kitchen, separate toilet and a bedroom with a bunk bed on the ground floor and on the first floor 2 beautiful bedrooms with a sink in the room.It is located between the green meadow and the Schoonoord hiking area.Parking next to the house is free. Wi-Fi is also free.This holiday home has 3 bedrooms with their own washbasin, of which: 2 on the first floor and 1 on the ground floor. The room on the ground floor has a bunk bed. The 2 bedrooms on the first floor have 2 separate box-spring beds. The house has a kitchen with refrigerator, dishwasher and oven. The holiday home also has 2 terraces.The holiday home is quietly located between the Zeeland village of Oostkapelle and the beach, close to nature. It offers a large number of leisure activities. The town of Oostkapelle and the beach are both 1 km from the hotel. Domburg is 3 km from the hotel. Larger cities such as Middelburg (10 km), Vlissingen (20 km) and Goes (35 km) are some places in the area that are definitely worth a visit.
Super cozy 6-person holiday home in Oostkapelle 1 km from the beach
For information and reservation
Search & Book
Oude Domburgseweg, Oostkapelle
tel. +31 118 744 025
web.
More information