Molenweg 26 - ODV19 - Cottage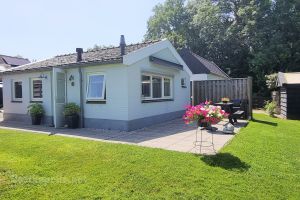 Mooi en compleet ingericht vakantiehuis op een toplocatie, met een mooie grote tuin met terras. Dit huis biedt niet alleen comfort, maar ook een super prijs-kwaliteitverhouding. Het terras van de vakantiewoning grenst aan de achterzijde aan een mooi grasveld. Geniet van de rust! Fietsen staan gratis tot uw beschikking.
For information and reservation
Sea & Sun Holiday
Molenweg 26, Oostkapelle
tel. +31 118 584 453
mail.
E-mail
web.
Website
Characteristics
Max. 3 personen.

Bedrooms: 2.
Bathrooms: 1.

Floor space: ±45 m².
Pets not allowed.
No smoking.
Washing machine.
Kitchen
Refrigerator.
Coffee machine.
Water boiler.
Dishwasher.
Oven.
Microwave.
Child Facilities
High chair (child/baby chair).
Location
Distance to the beach: ±2,2 km.
Occupancy rate
December 2022
48
1
2
3
4
49
5
6
7
8
9
10
11
50
12
13
14
15
16
17
18
51
19
20
21
22
23
24
25
52
26
27
28
29
30
31
January 2023
52
1
01
2
3
4
5
6
7
8
02
9
10
11
12
13
14
15
03
16
17
18
19
20
21
22
04
23
24
25
26
27
28
29
05
30
31
February 2023
05
1
2
3
4
5
06
6
7
8
9
10
11
12
07
13
14
15
16
17
18
19
08
20
21
22
23
24
25
26
09
27
28
March 2023
09
1
2
3
4
5
10
6
7
8
9
10
11
12
11
13
14
15
16
17
18
19
12
20
21
22
23
24
25
26
13
27
28
29
30
31
April 2023
13
1
2
14
3
4
5
6
7
8
9
15
10
11
12
13
14
15
16
16
17
18
19
20
21
22
23
17
24
25
26
27
28
29
30
May 2023
18
1
2
3
4
5
6
7
19
8
9
10
11
12
13
14
20
15
16
17
18
19
20
21
21
22
23
24
25
26
27
28
22
29
30
31
June 2023
22
1
2
3
4
23
5
6
7
8
9
10
11
24
12
13
14
15
16
17
18
25
19
20
21
22
23
24
25
26
26
27
28
29
30
July 2023
26
1
2
27
3
4
5
6
7
8
9
28
10
11
12
13
14
15
16
29
17
18
19
20
21
22
23
30
24
25
26
27
28
29
30
31
31
August 2023
31
1
2
3
4
5
6
32
7
8
9
10
11
12
13
33
14
15
16
17
18
19
20
34
21
22
23
24
25
26
27
35
28
29
30
31
September 2023
35
1
2
3
36
4
5
6
7
8
9
10
37
11
12
13
14
15
16
17
38
18
19
20
21
22
23
24
39
25
26
27
28
29
30
October 2023
39
1
40
2
3
4
5
6
7
8
41
9
10
11
12
13
14
15
42
16
17
18
19
20
21
22
43
23
24
25
26
27
28
29
44
30
31
November 2023
44
1
2
3
4
5
45
6
7
8
9
10
11
12
46
13
14
15
16
17
18
19
47
20
21
22
23
24
25
26
48
27
28
29
30
December 2023
48
1
2
3
49
4
5
6
7
8
9
10
50
11
12
13
14
15
16
17
51
18
19
20
21
22
23
24
52
25
26
27
28
29
30
31
January 2024
01
1
2
3
4
5
6
7
02
8
9
10
11
12
13
14
03
15
16
17
18
19
20
21
04
22
23
24
25
26
27
28
05
29
30
31
Location