Halve Maanstraat 10 - OSA17 - Cottage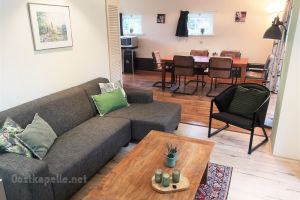 Dit mooie vakantiehuis op een rustige locatie in Oostkapelle, heeft een heerlijk terras om te genieten van de zon. Dit is pure ontspanning tijdens uw vakantie. Het huis heeft een gezellige woonkamer, vier slaapkamers en twee badkamers. De 2 bedden op de hoofdslaapkamer hebben nieuwe matrassen met een auping onderstel; verstelbaar hoofd- en voeteinde. De eethoek met uitzicht op de tuin past goed in het open woonconcept. Bij aankomst zijn de bedden opgemaakt. Het centrum van Oostkapelle ligt op slechts enkele minuten afstand en zorgt met zijn vele restaurants en winkels voor afwisseling en een onbezorgd vakantiegevoel. Er is een avonturenspeeltuin in de buurt van het huis, ideaal voor gezinnen met kinderen. Wasmachine en droger van de verhuurder kunnen op aanvraag worden gebruikt. Een eigen parkeerplaats en 4 fietsen staan tot uw beschikking.
For information and reservation
Sea & Sun Holiday
Halve Maanstraat 10, Oostkapelle
tel. +31 118 584 453
mail.
E-mail
web.
Website
Characteristics
Max. 6 personen.

Bedrooms: 4.
Bathrooms: 2.

Pets not allowed.
No smoking.
Washing machine.
Kitchen
Coffee machine.
Oven.
Microwave.
Child Facilities
High chair (child/baby chair).
Outside
Garden.
Terrace.
Car parking place.
Location
Distance to the beach: ±1,7 km.
Occupancy rate
December 2022
48
1
2
3
4
49
5
6
7
8
9
10
11
50
12
13
14
15
16
17
18
51
19
20
21
22
23
24
25
52
26
27
28
29
30
31
January 2023
52
1
01
2
3
4
5
6
7
8
02
9
10
11
12
13
14
15
03
16
17
18
19
20
21
22
04
23
24
25
26
27
28
29
05
30
31
February 2023
05
1
2
3
4
5
06
6
7
8
9
10
11
12
07
13
14
15
16
17
18
19
08
20
21
22
23
24
25
26
09
27
28
March 2023
09
1
2
3
4
5
10
6
7
8
9
10
11
12
11
13
14
15
16
17
18
19
12
20
21
22
23
24
25
26
13
27
28
29
30
31
April 2023
13
1
2
14
3
4
5
6
7
8
9
15
10
11
12
13
14
15
16
16
17
18
19
20
21
22
23
17
24
25
26
27
28
29
30
May 2023
18
1
2
3
4
5
6
7
19
8
9
10
11
12
13
14
20
15
16
17
18
19
20
21
21
22
23
24
25
26
27
28
22
29
30
31
June 2023
22
1
2
3
4
23
5
6
7
8
9
10
11
24
12
13
14
15
16
17
18
25
19
20
21
22
23
24
25
26
26
27
28
29
30
July 2023
26
1
2
27
3
4
5
6
7
8
9
28
10
11
12
13
14
15
16
29
17
18
19
20
21
22
23
30
24
25
26
27
28
29
30
31
31
August 2023
31
1
2
3
4
5
6
32
7
8
9
10
11
12
13
33
14
15
16
17
18
19
20
34
21
22
23
24
25
26
27
35
28
29
30
31
September 2023
35
1
2
3
36
4
5
6
7
8
9
10
37
11
12
13
14
15
16
17
38
18
19
20
21
22
23
24
39
25
26
27
28
29
30
October 2023
39
1
40
2
3
4
5
6
7
8
41
9
10
11
12
13
14
15
42
16
17
18
19
20
21
22
43
23
24
25
26
27
28
29
44
30
31
November 2023
44
1
2
3
4
5
45
6
7
8
9
10
11
12
46
13
14
15
16
17
18
19
47
20
21
22
23
24
25
26
48
27
28
29
30
December 2023
48
1
2
3
49
4
5
6
7
8
9
10
50
11
12
13
14
15
16
17
51
18
19
20
21
22
23
24
52
25
26
27
28
29
30
31
January 2024
01
1
2
3
4
5
6
7
02
8
9
10
11
12
13
14
03
15
16
17
18
19
20
21
04
22
23
24
25
26
27
28
05
29
30
31
Location