Eikenlaan 56 - OFB07 - Cottage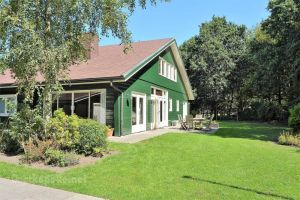 Dit ruime familiehuis met massieve houten constructie (Finhouse), biedt volop ruimte en comfort op een totaal van 240 m² bewoonbare oppervlakte. Er is een grote woonkamer met ruime open keuken en eetkamer, een kamer met open haard, vijf slaapkamers, drie toiletten en twee badkamers. 1 slaapkamer met eigen badkamer ligt direct op de begane grond. De twee verdiepingen van het gebouw zijn verbonden door een makkelijke trap. Een ruime berging voor fietsen, surfplanken, etc. behoort ook tot het huis. De mooie en zonnige tuin met 1300 vierkante meter, heeft een heerlijk terras en eigen BBQ-plaats. Het huis ligt op een locatie direct achter de duinen. In minder dan 10 minuten van het prachtige en zeer brede zandstrand van Oostkapelle, en in ongeveer 15 minuten kunt u het centrum bereiken. Deze woning is ideaal voor een ontspannen vakantie met een of meer families.
For information and reservation
Sea & Sun Holiday
Eikenlaan 56, Oostkapelle
tel. +31 118 584 453
mail.
E-mail
web.
Website
Characteristics
Max. 10 personen.

Bedrooms: 5.
Bathrooms: 2.

Floor space: ±240 m².
Pets allowed after consultation.
No smoking.
Washing machine.
Dryer.
Kitchen
Refrigerator.
Freezer compartment.
Coffee machine.
Water boiler.
Toaster.
Dishwasher.
Sanitary
Shower.
Bath.
Toilet.
Second toilet.
Media
Wi-Fi internet.
TV.
Foreign TV channels.
DVD-player.
Radio.
Child Facilities
High chair (child/baby chair).
Stair gate.
Outside
Garden.
Car parking place.
BBQ.
Location
Distance to the beach: ±700 m.
Not on holiday park.
Detached.
Occupancy rate
December 2022
48
1
2
3
4
49
5
6
7
8
9
10
11
50
12
13
14
15
16
17
18
51
19
20
21
22
23
24
25
52
26
27
28
29
30
31
January 2023
52
1
01
2
3
4
5
6
7
8
02
9
10
11
12
13
14
15
03
16
17
18
19
20
21
22
04
23
24
25
26
27
28
29
05
30
31
February 2023
05
1
2
3
4
5
06
6
7
8
9
10
11
12
07
13
14
15
16
17
18
19
08
20
21
22
23
24
25
26
09
27
28
March 2023
09
1
2
3
4
5
10
6
7
8
9
10
11
12
11
13
14
15
16
17
18
19
12
20
21
22
23
24
25
26
13
27
28
29
30
31
April 2023
13
1
2
14
3
4
5
6
7
8
9
15
10
11
12
13
14
15
16
16
17
18
19
20
21
22
23
17
24
25
26
27
28
29
30
May 2023
18
1
2
3
4
5
6
7
19
8
9
10
11
12
13
14
20
15
16
17
18
19
20
21
21
22
23
24
25
26
27
28
22
29
30
31
June 2023
22
1
2
3
4
23
5
6
7
8
9
10
11
24
12
13
14
15
16
17
18
25
19
20
21
22
23
24
25
26
26
27
28
29
30
July 2023
26
1
2
27
3
4
5
6
7
8
9
28
10
11
12
13
14
15
16
29
17
18
19
20
21
22
23
30
24
25
26
27
28
29
30
31
31
August 2023
31
1
2
3
4
5
6
32
7
8
9
10
11
12
13
33
14
15
16
17
18
19
20
34
21
22
23
24
25
26
27
35
28
29
30
31
September 2023
35
1
2
3
36
4
5
6
7
8
9
10
37
11
12
13
14
15
16
17
38
18
19
20
21
22
23
24
39
25
26
27
28
29
30
October 2023
39
1
40
2
3
4
5
6
7
8
41
9
10
11
12
13
14
15
42
16
17
18
19
20
21
22
43
23
24
25
26
27
28
29
44
30
31
November 2023
44
1
2
3
4
5
45
6
7
8
9
10
11
12
46
13
14
15
16
17
18
19
47
20
21
22
23
24
25
26
48
27
28
29
30
December 2023
48
1
2
3
49
4
5
6
7
8
9
10
50
11
12
13
14
15
16
17
51
18
19
20
21
22
23
24
52
25
26
27
28
29
30
31
January 2024
01
1
2
3
4
5
6
7
02
8
9
10
11
12
13
14
03
15
16
17
18
19
20
21
04
22
23
24
25
26
27
28
05
29
30
31
February 2024
05
1
2
3
4
06
5
6
7
8
9
10
11
07
12
13
14
15
16
17
18
08
19
20
21
22
23
24
25
09
26
27
28
29
Location