Brouwerijstraat - VZ929 - Chalet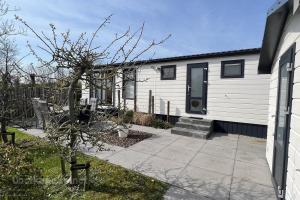 You can rent this new and beautiful 4-person holiday chalet at a pleasant family campsite just outside Oostkapelle. The family campsite has several facilities including a launderette, a snack bar with a cozy terrace and a sandwich shop. In addition to various playgrounds, for the children there is also a football cage, indoor playground, indoor swimming pool and a water playground. At less than 300 meters there is a large supermarket where you can do your shopping.The North Sea beach is only 1500 meters from the park, which is only ten minutes by bike! The beach is clean and clear and you will also find several beach pavilions. You don't need more to have a great beach holiday in Zeeland. Oostkapelle is a characteristic and child-friendly village surrounded by two beautiful nature reserves, namely Manteling and Oranjezon. So you have fantastic opportunities for cycling or walking through the cycling or walking network, the routes lead you through the most beautiful parts of Zeeland such as the farmland paths, sturdy dikes and nice villages.For a wonderful beach holiday with your family, you should definitely rent this nice 4-person holiday chalet at a child-friendly family campsite in Oostkapelle.
4-person holiday chalet at a family campsite in Oostkapelle, 1500m from the beach
For information and reservation
Search & Book
Brouwerijstraat, Oostkapelle
tel. +31 118 744 025
web.
More information