Berkenhof Tropical Zoo - Attraction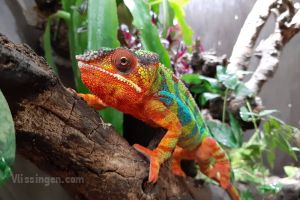 In the mini-jungle at Berkenhof Tropical Zoo, all sorts of things walk, swing and fly around! Iguanas and chameleons rustle in the trees, colourful butterflies fly happily around you and curious monkeys keep an eye on you from a distance. Do you dare to hold a snake or tarantula in the Nature Classroom? Meet all the animals at Berkenhof Tropical Zoo!
Experience an underground tour in the fossil mine, with mammoths and sabre-toothed tigers from the past. Then suddenly find yourself among giant dinosaurs in the Dino Expo! Begin an exciting quest through the prehistoric era among giant claws and teeth! Do you dare to take a photo with them? In the indoor Kids Jungle you can play and climb rope bridges and towers like a monkey. Is the weather nice? Then slide down the cableway in the Outdoor Play Forest at lightning speed and play on the wooden equipment in the greenery. Tip: there are many games with water and sand, so be sure to bring extra clothes! While the children play, parents rest on the terrace or in the restaurant. In Berkenhof Tropical Zoo you not only see the most beautiful animals, you become a true nature expert! In the Nature Classroom, animal caretakers explain an animal, such as a snake, spider or lizard, several times a day. You might even get to hold one!
Berkenhof Tropical Zoo in Kwadendamme is suitable for the whole family, children, adults and the elderly.
For information:
Berkenhof's Tropical Zoo
Langeweegje 10A, Kwadendamme
tel. +31 113 649 729
web.
Website